TIPS FOR SPEAKING IN ENGLISH
Persistently follow this to start speaking in English…..
 Well, you would be on the go, in the vocabulary learning process…… Gather your strength to gain more vocabulary…… Then, being in the action of learning new words, how to start talking it, using the vocabulary gained…. That's the Million Dollar Question???? As we all could probably memorise things but getting them into action is quite a task…. Actually how to form and talk sentences using these words…… Let's work on it in this post….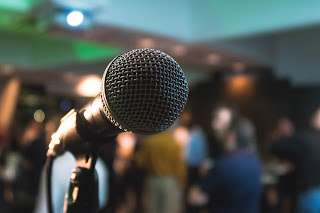 There's some stuff here around to get you going on using your vocabulary power to speak in English……
While we learn the solution towards speaking English, parallely let's learn what are the repeated mistakes many do in their approach towards learning English……
KEEP ASIDE FOR NOW THE FEW ADVICES YOU HAVE ALREADY RECEIVED…
      * Practise daily 
      * Maintain a journal/book/diary to note down the vocabulary
      * Talk slowly
If nothing of these worked for you,… then please do religiously follow these vital, working, solutions I give to u…. Seen this working magic in many people even they being educated in mother tongue based mediums…. Here, we go…..
(If you just stop doing these silly mistakes you will easily land up talking in good English)
1. Stop watching, listening too much of local or only native language based (or) home based language….. content. Drastically reduce watching, talking and listening to that kinda videos, song, conversations, podcasts, TV Channels and so on…..
Trust me it works so well…..
If your consumption is more of local content then how will your production be in an International language….. Please don't get offended….
* That doesn't absolutely mean you have to leave your love and connect with your native tongue….
Hope you get it straight and right….
The Master tip to learn a language is to have more consumption(ie).gaining information  and more production talking, writing more of it….. Keep it nailed in your mind..
👉Solution for this is to 
* Listen to comfortable and good, simple accent YouTube videos from good Youtube channels……
* Listen to simple and short 15minutes PODCASTS FREQUENTLY
Then you will stop watching useless and stuff less entertainment channels…
* Stop watching entertainment stuff in your local tongue…
2. You hate books 
Hey, did it hit hard on you….. may be sorry but that's the plain fact… You hate books because you have read only your school or college textbooks or any syllabus books……. You would have settled with a mindset that these books only tortured you,….. so on the long go you would have started to hate books and thereafter reading books itself…… KILL THIS HATRED FOR BOOKS…..
THERE ARE SOO… MANY BOOKS YOU WOULD FALL IN LOVE WITH…. 
👉Solution
Start reading a story book of your favourite choice…..I swear you would never stop reading it till you finish it….
STORYBOOKS, NOVELS AND SHORT STORYBOOKS ARE THE BEST CHOICE FOR YOU…… OR FIND YOUR AREA OF INTEREST AND START READING IT…..
A few books I would suggest for you are
      1.The Monk who sold his Ferrari
      2.The Alchemist
      3.The White Tiger
3.You care too much
    I just wanted to say…… you just care too much that….. "What others would think if I open my mouth and talk, may be person to person or on a stage…… would I talk some rubbish and will anybody laugh at me or criticise me….. or hurt me….. and so on….. what if I make a mistake…. that is usually your mind voice…. just kill it too….. u can
This is a feeling that many who want to talk in English have…..
👉Solution
"The dog method"
 (This is what I tell to all my SpokenEnglish students…..)
Just start talking about a dog
I shall just initiate one example for you….. You could do this personally or with close friend, room mate who knows and understands that you are on your English learning process…. if not just do it alone…. "you are your best friend"
Say the dog……
The dog is my best pet animal. I got it from my friend. Dogs are very loyal. The best breed dog I love is Labrador. It is brown in colour. It's skin is so shiny. Everyday I take my dog for a walk in the morning. Dogs are used my police for investigation. Dogs have become very costly these days……. and just never stop for a while…… See how many simple sentences you can talk about your dog….. the thing you really like… You can even try this way too…. You would start learning English so fast…
Just work it out this way…… and continue with talking on and on, on your favourite topics…… So many have even become public speakers using all these guaranteed working methods… Plz do start doing these right now,…. this moment is always the right time to do anything, don't postponed…..
4. GIVING UP, QUITTING
The worst mistake all do is quitting learning English, because you become scared, afraid of the failures you face while learning English…. Never do it in whatever stage of learning English you are….. just saying…. why should I learn English… I can just manage with my local tongue…. There are so many people who have achieved without knowing or learning English…. Come on just "STOP IT" There are so many doing it you please don't do it….
Yes, English is a language which is a bit different….. but it is definitely achievable with your constant effort….. Just imagine yourself talking like others in English easily…. you can make that dream come true….. for you….
It might be a little difficult but then it will open a wonderful career for you in fact….Take my word…. definitely not a false promise….
👉SOLUTION
When learning English becomes difficult "WORK HARD". "Practise everyday, talk to people on call in English, Text to people in English". Use these as your true mantras to learn English…..
* Definitely, read a daily Newspaper, buy books
"AS LONG AS YOU WANT TO LEARN YOU WILL SURELY FIND A SOLUTION AND WAY"
"To earn some self confidence and to earn a career please do it….."
5. YOU ARE NOT LEARNING GRAMMAR
Many a times grammar seems not important to talk fluently in English…..
But, yet though it is partially true, If you are only reading grammar books and learning grammar alone and not speaking enough in English, then it is factually true that grammar alone doesn't help…. Your English will never improve at all…. Even many know well about could, should, would, past tense, present tense….. but still they might not feel confident to talk in English… You might have just become frozen when asked to talk in class… But if you start writing complete and correct English sentences with correct grammar then it would be a stepping stone for you in learning English….
👉Solution
Learn your Basic Grammar.
You can buy one of these books
      1.Word Power Made Easy 
      2.Wren and Martin
It is not very hard or very easy, but you must get and read them for "Basic English grammar for SPOKEN ENGLISH"
They are definitely worth…. worth your time and effort….. Spend few hours a day on these books…… read and re-read….
NOW you clearly know what your 5 mistakes are and what are the solutions to correct those mistakes…
From today, right now itself start watching only good, simple YouTube channels related to either gardening, food or politics or anything which is your favourite area of interest….. keep it in mind that they must only be in English….
Promise me to start doing it from this day, this hour for your progress….
Please do share MY BLOG POSTS, to all those who want to learn English for "BETTER SELF CONFIDENCE, CAREER AND THOSE WHO FIND SPEAKING ENGLISH AS THEIR ONLY HINDERANCE IN CAREER, MONEY MAKING AND PROGRESS", because when you share my blogposts I really feel motivated to do more blogposts…..
SHARE FOR YOU AND FOR ME…..
ALL THE BEST……
WITH ALL MY HEART AND SOUL TO LEND A HAND TO YOU TO LEARN AND SPEAK ENGLISH…..
Janet