HOW ENGLISH LISTENING SKILLS IMPROVE YOUR SPOKEN ENGLISH
Hey All,
TODAY with yet another useful and essential topic to learn spoken English…..
I am just going to share with all of you as to how you can improve your spoken English by listening to more of English content….
Why is listening to English that very important to start speaking in English??….
It is vital and the very basic step to improve your English Speaking skills. As all of you must be aware that the more to listen to something the more you start reproducing it. We all would have observed a simple day-to-day thing as to…. how little ones start murmuring the songs or recite the words of the songs they are constantly made to listen…. whereas they find very easy textbook content or school syllabus quite very hard…. we could witness them just struggling with the syllabus…….
Does it actually make sense for you…. I guess you might be directly able to connect this with what "ENGLISH LISTENING SKILLS" we are discussing here today…..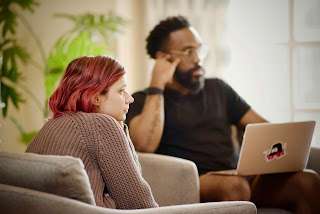 The more you listen to something the more familiar you become with….. and the more liking you develop towards it…… you literally get attracted and fascinated…. isn't it… the more connected you become the more do you use it in your practical life….
That sounds very easy…. and now having said that I am hereby listing down certain ways as to how you can develop healthy and solid English Listening skills to improve your English speaking skills invariably……
Well,
WHAT TO LISTEN TO???
1. LISTENING TO NEWS CHANNELS
When you have the practice of following daily news either on news paper or social media messages or websites…. just turn that practice into listening to NEWS on Television or radio in ENGLISH…..
Trust me this is such a basic and extraordinary step to widen your English listening skills and speaking too…
By listening to news updates on NEWS channels you can improve your vocabulary…. and you can vastly grow your daily vocabulary because most of the NEWS would be carrying stuff connected daily life and happenings.
You can also without any grammar practices learn how to communicate using PRESENT TENSE, PRESENT CONTINUOS TENSE, PAST TENSE, FUTURE TENSE AND FUTURE CONTINUOS TENSE so effortlessly as most of the news updates on radio and television would be just all about what happened recently, what happened today and what is happening in the present and what is being expected to happen in the future…..
Isn't it great, because many English learners find the topic TENSES very complicated and this is an amazing and easy strategy to achieve learning it on the go…. VERBS AND TENSES are the most prime areas in Speaking perfect English…..
2. LISTENING TO PODCASTS
The second and interesting way to improve your English listening skills is to listen to PODCASTS.
Actually what are Podcasts in general?
Podcasts are audios, audio files spoken by either famous celebrities, speakers, orators, motivational speakers, radio jokies and so on…..
Well you can download any of these podcasts from widely available free apps or websites on the internet…
You could either download them on your computer, iPod….. and listen to it later just like Audiobooks….
Podcasts actually encourage you to listen to listen more and more as they are so engaging just like listening to a friend of yours. Moreover they are available in so many interesting topics….
3. LISTENING TO SLOW BEAT SONGS WITH CLEAR LYRICS
This is in fact something very exciting as it just sounds like an useful hobby and it could be easily made as a part of your day….
Why do I specifically mention slow beat songs, because this to a great extent can help you clearly listen to words and improve your word power to express feelings, emotions and information too…….
4. LISTENING TO FAMOUS SPEECHES FROM ORATORS YOU LOVE
It is always so much so engaging to listen to speeches from renowned orators, in a way it is first of all very very inspiring and motivating to speak well like them and also achieve more….
There are so many orators who give fantastic speeches on all kind of topics in multiple areas and never do they leave us bored…. Pick up those brilliant choices either on YouTube or internet and start enjoying listening to them almost everyday of your English learning process.
5. LISTENING TO DEBATES
I am pretty sure that almost all of you would have listened to debates…. either on Television or internet… or may be at times live debates do widely happen…
Debates often do happen even at home….. between siblings, parents and children too…
Not that actually…
I do mention debates here as healthy arguments or short speeches with two side "ONE FOR THE TOPIC AND THE OTHER TEAM WOULD BE AGAINST THE TOPIC"……
Debates are so cool to listen…. well I do love them too…..
For instance…. Topics like "Science is a boon or a bane"…. and any of that sort are so much good to listen even for hours….
So start listening to these debates too regularly so that you know how to establish your point anywhere in daily life or workplace and elsewhere correctly….
I guess all these simple ways to improve your English listening skills would have all the way been helpful to all of you and hope you very soon and vigorously start practising all these to begin speaking well in English…
Catch you very soon….
Janet